Fine dining, virtual meetings—and richer
audience engagement
A specially curated menu of seasonally sourced ingredients, tips, tools, and best practices for hosting three star (***) virtual meetings.

Softway takes on the challenges of the modern workplace head-on, and relishes the opportunity to create new experiences and solutions for clients and team members alike.
A virtual meeting is like a fine dining experience—the contents of the meeting are important, but oftentimes it's the process and ritual around the event that makes it memorable and impactful.

From first sip to last bite—our menu purposely strips away the remoteness and unfamiliarity, bringing team members and clients together to collaborate, ask questions, and innovate collectively in any virtual space.

Chef Menu:

Apéritif
A simple, yet encompassing invite containing all the necessary objectives, expectations, and documentation to stimulate guests' appetites for curiosity and collaboration before the meeting even begins.
Get the recipe and make it at home.
Amuse-bouche
A genius once theorized that time is relative—he was too right. In the virtual world, dates, times, and days get a little fuzzy. This light amuse-bouche is served the day before the meeting as a helpful reminder and preview for what's to come.
Hors d'oeuvres
This starter dish, while only a few bites, sets up the entire meeting for success. As guests find their seats and begin conversing, check all systems—is the audio crisp? The video crystal clear? Have document permissions been shared?
La salade
A lively and airy assortment of levity, ice breakers, and chit chat that helps guests relax, reset, and be present in the moment. As the meeting proceeds, guests will feel more open to participating and engaging.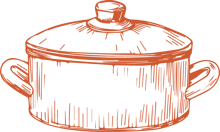 L'entrée
A dish served family-style to promote togetherness and inclusion. This is the meat of the meeting, the focus of the entire event—it can be rich and heavy in nature, so we encourage sharing. The act of passing it around the table invites everyone to take their turn and participate—a meal is always best shared.
Add Just Ask—a digital tool for live Q&A—that makes sharing easier.
Dessert
A sweet, yet restrained final dish to cap off the evening. It captures the high points, but is not cloying or dense. End the meeting with a sweet little bow—tying off loose ends and lingering questions before parting.
Digestif
A post-meal send-off consisting of next-steps, notes, and action items. This very minimal digestif is important to appreciating the entirety of the meal—leaving a taste behind that makes guests hungry and prepared for the next virtual soirée.
An exploration of virtual workplaces, a nod to experiences once familiar that suddenly feel so foreign and new. The entirety of our menu—from first sip to last bite—purposely strips away the remoteness and the unfamiliar, creating balance and comfort in your virtual meetings. Invite your team members, your clients, this is an unrivaled experience that makes any virtual meeting a slice of cake.