When it comes to the products we work on, using the right technologies with the right UX principles is something that really matters to us. That is exactly what we did with the Just Ask tool – our game-changing AMA (Ask Me Anything) tool. It helps people host better events, and enables their audiences, no matter how shy/hesitant, to get their voices heard.
TechX: Technology + User Experience
At the core of our product building principles lies something we like to call: TechX. We believe that great implementation of a technology, or multiple technologies, should go hand-in-hand with a great user experience.
That is why we ensure that we're building products that are human-focused, both for our clients and for ourselves. Human-focused in many environments: from virtual workforces to a manufacturing floor. It's all about putting people at the center of everything we ideate, design, and build.
Keeping all of these principles in mind, we've built our shiny new AMA tool: Just Ask.
Importance of feedback for a feedback-centric tool
Before we begin with the "How", here's our story on the "Why" behind the Just Ask tool:
Putting 'meaning' back into meetings with the Just Ask tool
When we launched Just Ask internally to all of our people at Softway, we got some really great feedback. Feedback that helped us drive the product in the right direction. Feedback that fundamentally changed the way we made product decisions around Just Ask. It was quite easy for us to obtain feedback. Since it was internal – we could just get it over chat and short survey forms.
By building out the core features of the tool, our intention was to get something out fast and get feedback quickly. The one thing that we wanted to learn next was what UX elements to focus on. We got feedback and learnt a few things about the UX around our core features. Hosts couldn't mark questions as "Answered". Filtering of the questions was not intuitive – people weren't able to see what questions needed attention first. Hosts weren't able to fully understand their audiences' sentiment around a particular event. People faced login issues. It wasn't scalable.
We noticed a lot of issues with the first internal release of the tool itself.
So we got to work. We applied human-centered design to improve our UX.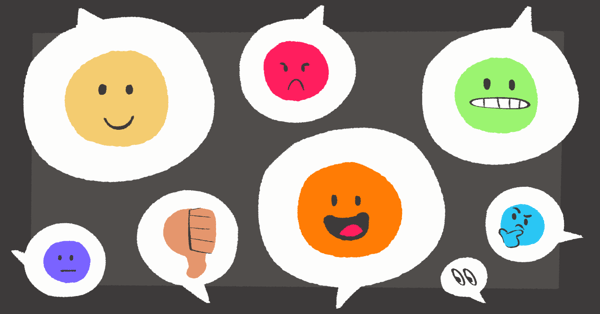 How did we apply human-centered design?
Human-centered design is a creative approach that solves problems and builds things by involving the human perspective in all parts of the process.
From a human-centric UX perspective, our base interactions around the tool were something we had nailed down. Our elemental layer didn't need to be reimagined. We just needed to focus on the glitz and the glam, and tweak things that weren't working that well. We followed an MVP approach, because we wanted to release this tool to the world while there was a dire need for it. The lockdown and the new remote-first world had exposed this need to us. Our goal was to get it out there quickly.
So, we put our heads down and focused on a lot of interaction design changes. Low-fidelity to mid-fidelity wireframes, and a little bit of gut instinct were used, based on some light heuristic research, to improve the UX around the tool.
Features & documentation
Working with the help of all these processes also led us to focus on what features needed to be built and tweaks that needed to be made right away.
We not only gathered feedback from hosts, but also put ourselves in the audience's shoes – to truly understand their experiences, both good and bad, with the tool. We added in the option to mark questions as "Answered". We made the filtering of the questions a lot better. Made the app scalable and enhanced the authentication process.
We built things inside our tool that people really needed.
Apart from building out these things in our tool, the other thing that really mattered to us was writing fantastic documentation. While we made the tool as intuitive as possible, we also want to make sure we're here for our users – and this means giving them all the help they need around using our tool. Writing documentation and support forms was something that was a priority for us – and we decided that the AMA tool would not be considered "Done" without it. Our team was able to knock that out of the park in no time. 💪
The end result was an intuitive, easy-to-use question-and-answer tool that helped people host better events, enable their audiences to get their voices heard and get their valuable feedback with a great balance of transparency from the host and privacy for the audience.
We're still applying Human-Centered Design to build for humans, get feedback and continually improve the technology and user experience for everyone.
Try it out!
We're still very much open to feedback around the Just Ask tool and we'd love to get that from you. Are you ready to try Just Ask yet? Try it out and let us know what you think!