The CoolCloud HVAC app
IoT & Design
Making service calls better for everyone
IoT app saves HVAC technicians from heat and inefficiency
What we did
IoT
App Development
UX Design
Visual Design
The client
Since 1954, Goodman Manufacturing has been a household name in air conditioning and heating in the United States.
The ask
Goodman asked Softway® to build an IoT app for their connected HVAC products. They wanted this app to help strengthen their relationships with existing and new customers/contractors by enabling them to work more efficiently.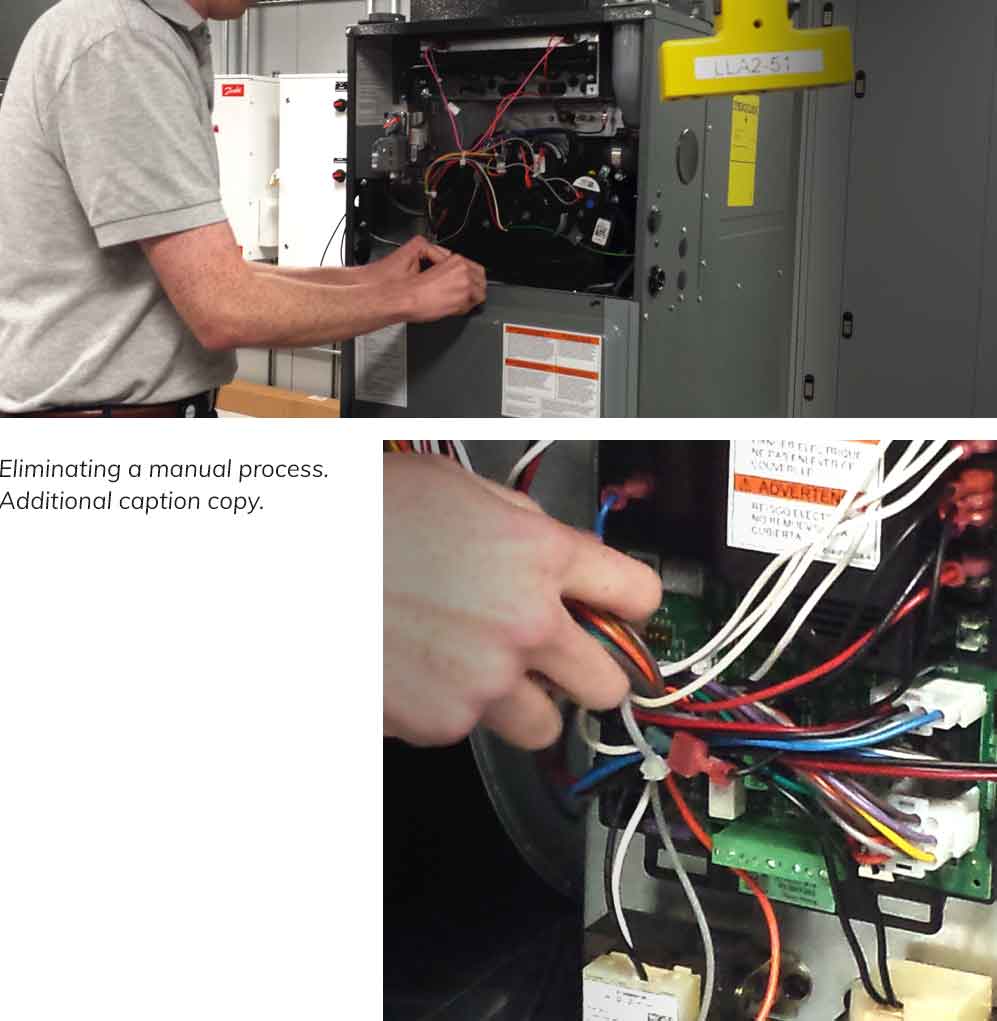 Our approach
Through a user research workshop, we identified some major pain points to work into our app design—
Inefficient workflow–jobs took 3-4 hours to complete.
It's more difficult and time-consuming to run diagnostics on units that are in dark, hot, or tight spaces.
Goodman wanted to connect their HVAC products through Bluetooth or WiFi functionality but didn't know how to turn it into a reality.
The audience
To achieve our client's goals, we had to understand the day-to-day needs and functions of an HVAC contractor, and how we could make their jobs easier. For them, time = money. The longer each repair or installation takes, the fewer number of jobs they can complete per day—cutting into their ability to serve more customers and generate additional revenue for their employees and business.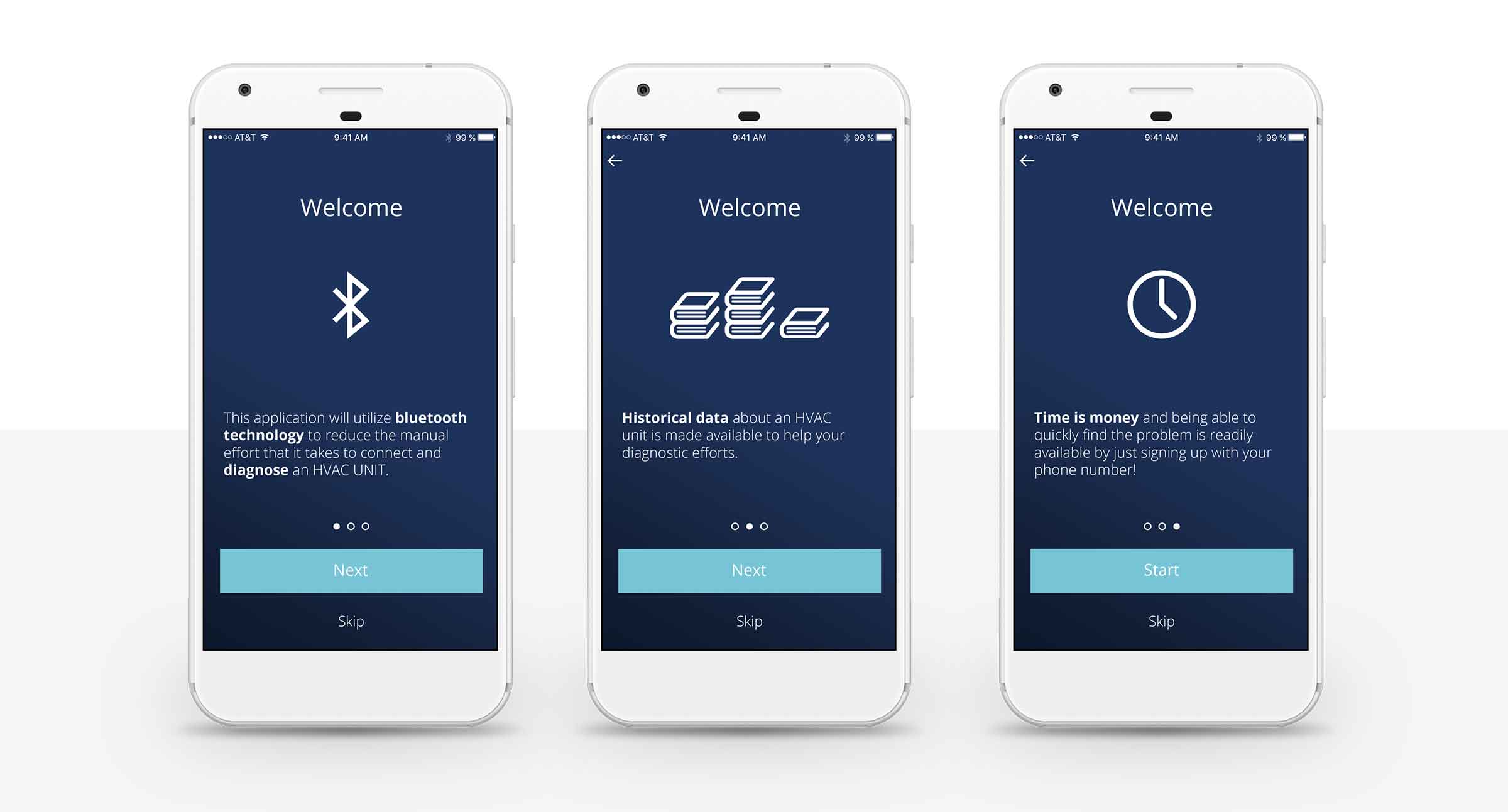 How we did it
Our goal was to create an IoT-based mobile app that allowed contractors to quickly fix, install, and maintain Goodman brand HVAC equipment.
Part 1
A mobile app (with iOS and Android compatibility)
Part 2
The Bluetooth functional hardware built into the HVAC unit
Part 3
Cloud (web) API for the app to store and retrieve operational data for each unit
All three points had to work together in this solution. Bluetooth functionality was built into each indoor unit, enabling units to send error codes directly to the mobile app. Contractors could run heat checks and fan tests from a distance, allowing them to identify the tools needed for the job without leaving the service area.
Our strategy
For this system to be successful, we needed to:
Prove how this system benefitted contractors
By automating the diagnostics process and adding Cloud-based service notes, we eliminated a lot of manual steps. Another benefit included displaying error code descriptions and basic recommendations to start fixing the problem.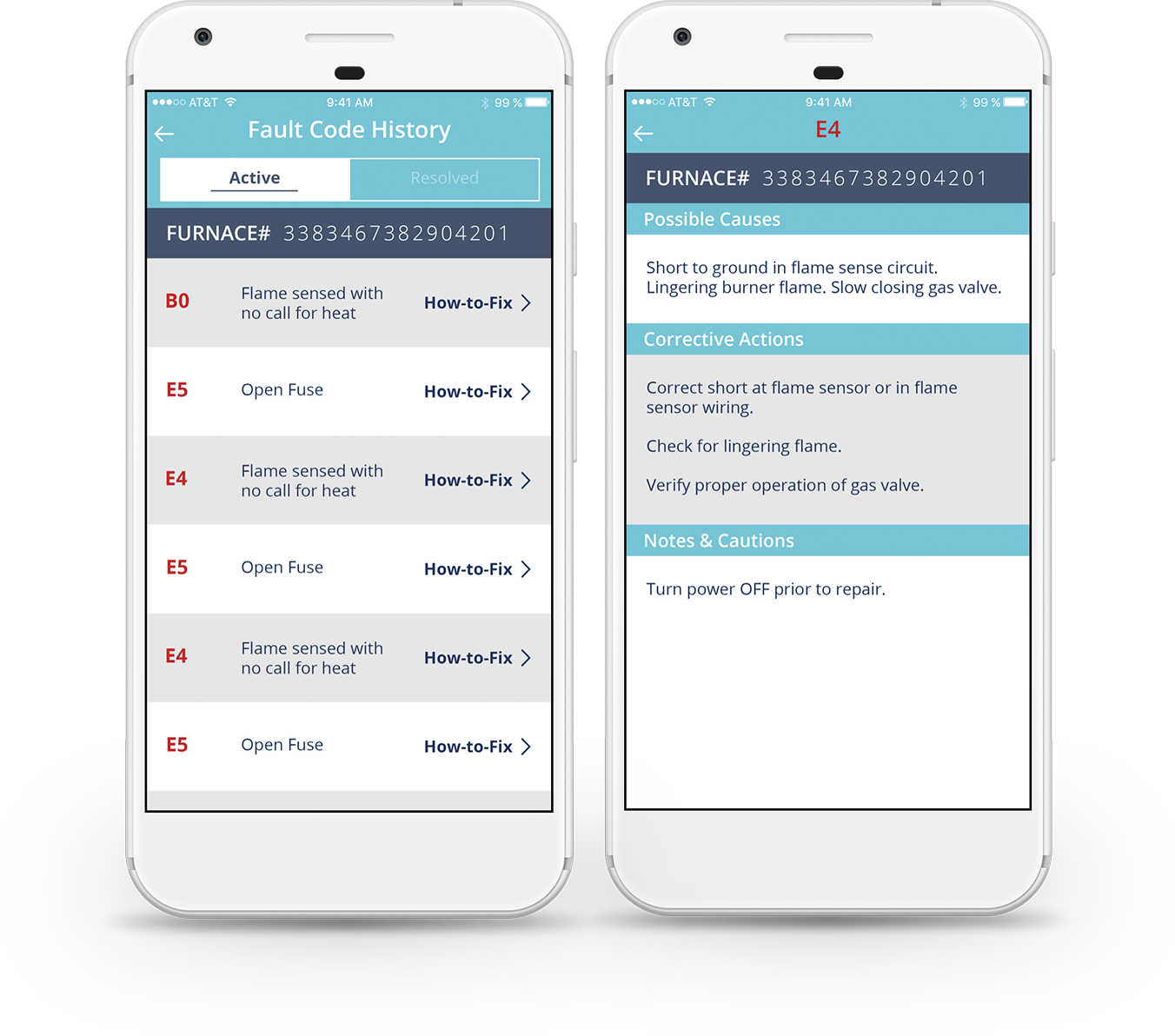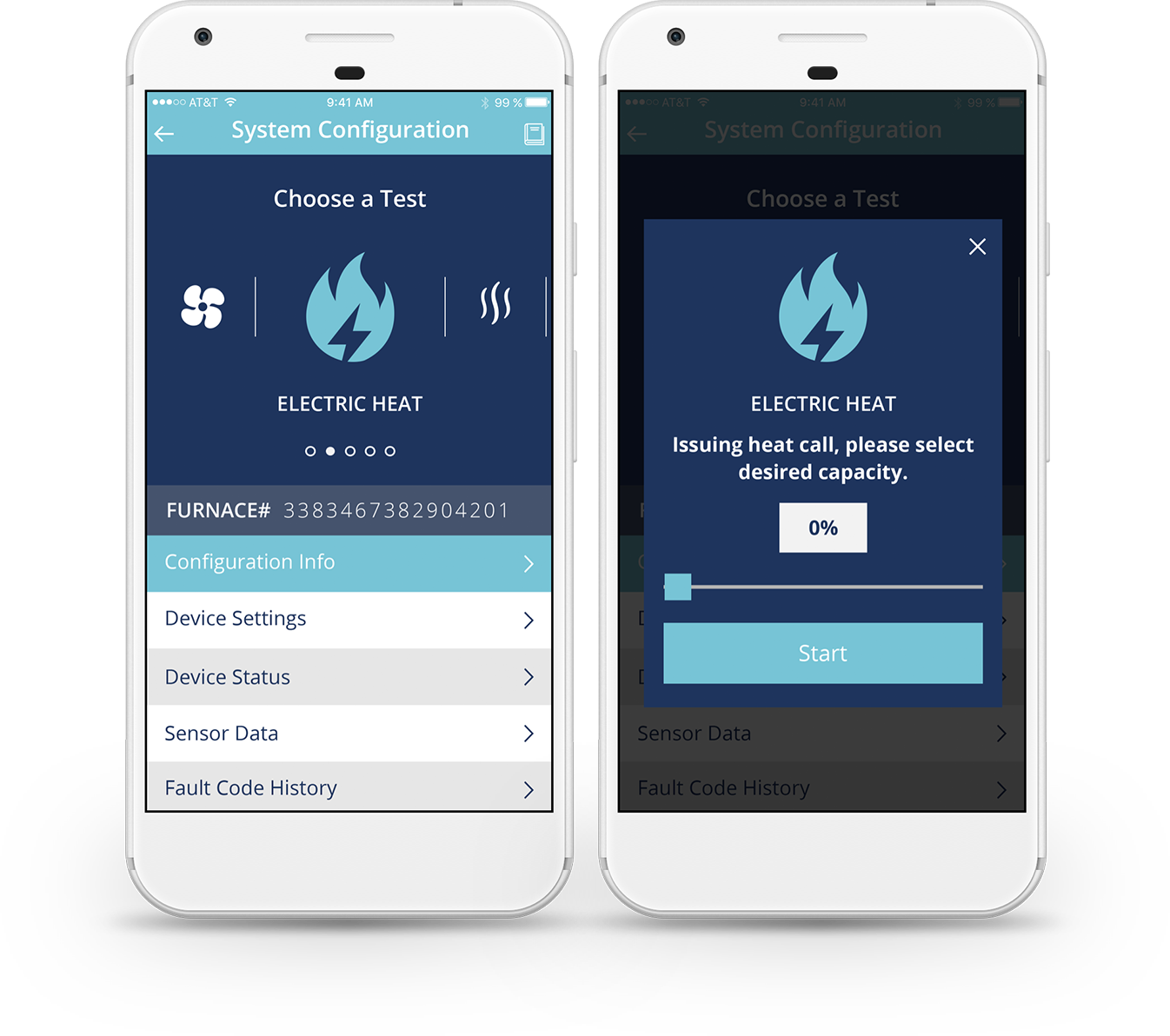 Empathize with contractors
The app needed to work in low-light settings. We didn't want to blind them with an all-white interface, so we used colors that aren't compromised by higher backlight intensity.
Consider the homeowner's privacy
Homeowners crave convenience, but device security is not always top-of-mind. As solution providers, we knew we had to bake in protection against unauthorized access and cybersecurity attacks. We configured a 2-step authentication process and limited Bluetooth pairing range, so units cannot be accessed outside the home.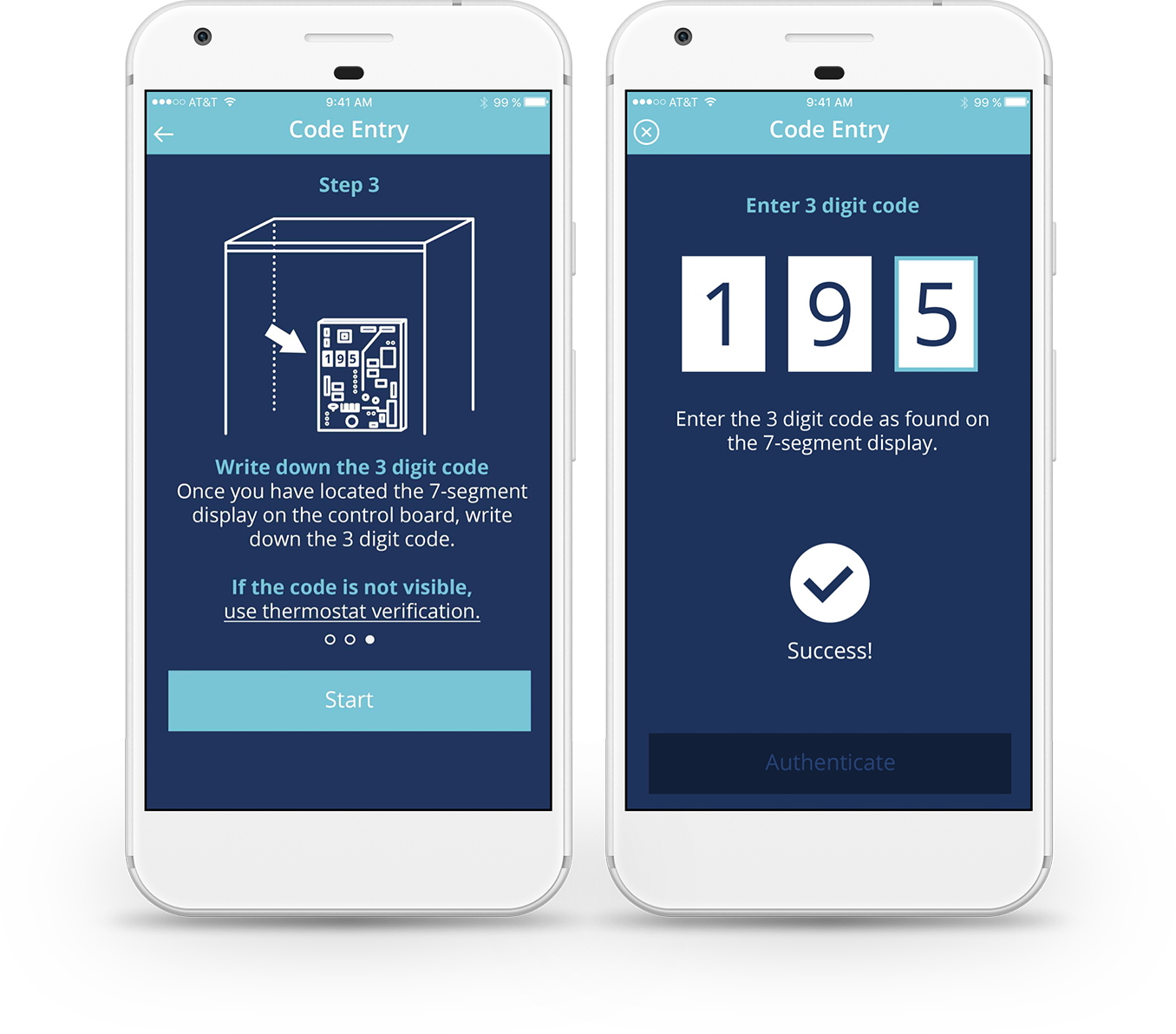 Results
We lightened the load.
—Maintenance and installation times were cut by half (1-2 hours).
—Contractors spend less time working in uncomfortable environments.
We kicked up the benefits.
—We put tools in the hands of contractors that increase their service speed and execution—improving the end-service for homeowners.
—We created a secure app that boosts the reputation of dealers and contractors for being quick problem-solvers.
We created a system that works.
—20,000 app downloads in the initial 3-month period (Google Play and Apple App Store).